Arcmail Defender XPS100 Appliances
High-performance, Low-maintenance Archiving Solution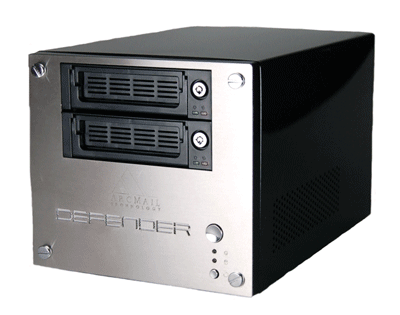 Arcmail Products
Arcmail Defender XPS100 Appliances
Defender XPS100 Appliance
#CX0100
Our Price: $5,899.00
Click here to jump to more pricing!
Arcmail Defender XPS100 Overview:
What's your most important business database?
Request a FREE copy of The Acmail E-Policy Handbook!
You might be surprised...
Email has become the new "filing cabinet". People use it to store contact information, documents, files, and scores of other business information. In a recent survey, business users said they consider over 50% of email to be "important" or "critical".* But with today's email volumes, just one user's sent and received mail can easily exceed 10,000 emails in just one year!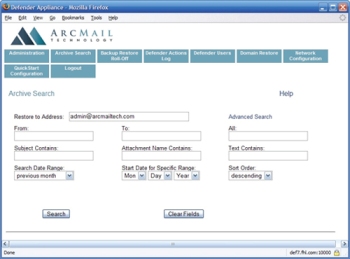 What are people doing to keep this important information? Overflowing their mailboxes, dragging emails down to files on their desktops, printing hardcopies, or just deleting them and hoping they won't need the information later.
Now Defender can manage and retain this important business information for you. By automatically capturing a copy of all inbound and outbound mail and securely storing it, Defender eliminates the need for large mailbox files and chaotic PST files and makes searching through emails fast and easy.
Defender is the premier email archiving solution designed specifically for small and medium sized businesses! It's easy to install, easy to operate, and, by combining archiving functionality with built-in disk storage, there's nothing else to integrate, nothing else to manage and, best of all, nothing else to buy.
Defender: Simply your best email archiving choice.
Why Defender?
Every good reason to archive email is a great reason to choose ArcMail Defender.


| Issues | Answers |
| --- | --- |
| You have (more and more) mail. Email volume and file sizes keep growing, piling up on your mail servers and user desktops. | Defender gives you up to 12TB of onboard storage to automatically archive all email and attachments. |
| Your business-critical and confidential email is "all over the place." It's on your email servers, backup tapes, desktops, and is frequently incomplete, misplaced, deleted and unsecured. | Centralized archiving for all. Defender automatically captures a copy of all incoming, outgoing and internal email and attachments and indexes and stores them in a single rackmounted or desktop appliance. Import function lets you add past emails and Export allows for easy consolidation and distribution of archived emails. |
| Regulatory and Legal Compliance. You have to secure and be able to quickly produce emails to comply with Sarbanes-Oxley, the new Federal Rules of Civil Procedure, the Freedom of Information Act or HIPAA. | RAID disk management ensures compliance with secure, fault-tolerant storage of all required records. Users have permission-based access to emails but cannot alter or delete any content. |
| Your employees have better things to do than file, store and hunt for email. They drag it from their overstuffed mailboxes to hard drives, flash drives and CDs, stash it in home offices and leave it in places you'd rather not think about. | Haphazard user-archiving is a thing of the past. Secure, centralized archiving on Defender with search function users launch from their desktops lets them make the most of their email time. |
| Your IT department doesn't have the bandwidth for complex software archiving solutions that require additional hardware and software, network integration and user support. | Nothing else to install. Fast and easy setup. Simply use your standard network configuration and set the journaling function on your mail server. |
| You want to avoid licensing and monthly service fees that come with software and hosted archiving solutions. | With ArcMail, you purchase only what you need. No per-seat licenses or monthly hosting fees. |

5 Reasons the IT Department will love Defender:
Everything's onboard
Up to 12 TB of storage, data compression and disk management software. No additional hardware or software to buy, install, integrate and maintain.
Simple setup
Just standard network configuration and setting the journaling function on your mail server.
Better mail-server performance, faster network back-ups
Onboard storage for up to 80 million emails keeps old mail off the server.
No help calls, hand-holding or hunting through back-up tapes
Users can launch Defender's simple, intuitive web-based search function directly from Outlook or their web browser to find emails and attachments in seconds.
Data integrity encryption and multiple security levels
Allows individual or universal access to data, while preventing content from being altered or deleted.
Find it fast!
Defender's robust search function makes it easy for users to find email and attachments in seconds. Search on common display names and email addresses in the To, From, and cc fields. Search for words in the message Subject line, body text, attachment names, extensions and text.
Defender's Search and Restore function can save the day if...
You have to find old email to comply with Sarbanes-Oxley, the new Federal Rules of Civil Procedure, the Freedom of Information Act or HIPAA.
A customer wants to renew an order based on terms your former sales rep quoted in an email, and that email is ... where?
Your boss calls and asks for your opinion of a presentation she emailed to you two weeks ago, which you haven't looked at yet....
How It Works:

ArcMail Defender is a self-contained email archiving appliance. Everything necessary to archive email is included within the Defender and there is no additional hardware or software to purchase.
After connecting Defender to the network, the Mail server is configured to send copies of all inbound, outbound and internal messages to Defender. This is called a journal process. The Defender receives copies of all messages that have been sent from the mail server's journal process and upon receipt of these messages it fully indexes and archives the email headers, bodies and attachments in real-time so they may be searched, viewed and retrieved with the Defender's advanced search engine. There are two processes that index the data contained within the email; the main indexer, which parses and indexes header information such as sender, recipients, subject, date, attachment names...etc. The second indexing process indexes all text within the email bodies and also opens common attachment types to index the text within those attachments.
After indexing information is stored in the database, the raw message bodies are compressed and stored in the Defender fi le system to improve database performance and system scalability. Each message is stored only once (Single Instance Storage) on the Defender to maximize storage efficiency.
Users and administrators may search, view and retrieve email by connecting to the Defender's web interface and logging in through its secure login interface. The Defender uses SSL and encrypts all data between itself and the user so email data does not travel unencrypted across the network. This is particularly useful in companies with multiple offices or when placing a Defender off-site in a data center for disaster recovery purposes. Organizations may also make Defender available through the firewall so remote or traveling users can access it remotely using any web browser (including PDA devices) to search and view or restore email. End users are able to search any email sent to or from them while administrators are able to search the entire archive for messages sent or received by any user.
The Defender administrator may choose to manage user accounts directly on the Defender, or alternatively, simply point the Defender's login authentication mechanism to use the existing Active Directory server for authentication. When using Active Directory for authentication, users logging into the Defender are authenticated by the Windows Domain Controller, eliminating the need for the administrator to have to manage users and passwords on the Defender.
Model Comparison:


| | | | | | | | | |
| --- | --- | --- | --- | --- | --- | --- | --- | --- |
| Models | XPS100 | U110 | U120 | U220 | U240 | U380 | U3120 | U3160 |
| Total Disk | 500GB | 1TB | 1.5TB | 2TB | 4TB | 8TB | 12TB | 16TB |
| Available File Storage | 175GB | 400GB | 650GB | 1.3TB | 2.8TB | 5.9TB | 8.7TB | 12.1TB |
| Memory | 1GB | 2GB | 2GB | 4GB | 4GB | 8GB | 8GB | 16GB |
| Disk Hot Swap | Yes | Yes | Yes | Yes | Yes | Yes | Yes | Yes |
| Power Supply Hot Swap | - | - | - | Yes Dual | Yes Dual | Yes Dual | Yes Dual | Yes Dual |
| Chassis | Cube | 1U | 1U | 2U | 2U | 3U | 3U | 3U |
| Dimensions (inches) | 15x10x8 | 16.9x1.5x23 | 16.9x1.5x23 | 16.9x3.5x26 | 16.9x3.5x26 | 16.9x7.0x 26 | 16.9x7.0x 26 | 16.9x7.0x 26 |
| Weight (lbs) | 25 lbs | 35 lbs | 35 lbs | 67 lbs | 67 lbs | 105 lbs | 105 lbs | 105 lbs |
Defender Sizing:


Annual Volume*
Avg. Daily Volume
Years of Retention
1
2
3
4
5
6
7
8
300,000
1,000
XPS100
XPS100
XPS100
XPS100
XPS100
XPS100
XPS100
XPS100
600,000
2,000
XPS100
XPS100
XPS100
XPS100
U110
U110
U110
U110
1,200,000
3,500
U110
U110
U110
U110
U110
U120
U120
U120
2,000,000
6,000
U110
U110
U120
U120
U220
U220
U220
U220
3,000,000
9,000
U120
U120
U220
U220
U220
U220
U220
U240
4,500,000
14,000
U220
U220
U220
U240
U240
U240
U240
U240
7,000,000
21,000
U220
U220
U240
U240
U240
U380
U380
U380
9,000,000
27,000
U240
U240
U240
U240
U380
U380
U380
U3120
11,000,000
33,000
U240
U240
U240
U380
U380
U380
U3120
U3120
17,000,000
51,000
U380
U380
U380
U380
U380
U3120
U3160
U3160
22,000,000
66,000
U380
U380
U380
U380
U3120
U3160
U3160
U3160
28,000,000
84,000
U380
U380
U380
U3120
U3160
U3160
U3160
U3160
35,000,000
115,000
U380
U380
U3120
U3160
U3160
U3160
U3160
U3160
40,000,000
135,000
U3120
U3120
U3120
U3160
U3160
U3160
U3160
U3160
60,000,000
200,000
U3120
U3120
U3160
U3160
U3160
U3160
U3160
U3160
*Total Email Capacity based on 75kb average email size. Number of emails stored will be less if average size is larger than 75kb. Warranty includes 60 days complete hardware and software maintenance and support.
Specifications:
Everything you need to archive and manage email in a single network appliance.
ArcMail has an affordable, standalone solution that includes everything you need to automatically capture, index, store, and quickly find and recover incoming, outgoing, internal email and attachments.
The Defender appliance comes complete with onboard, fault-tolerant storage ranging from 500GB to 16TB with data compression and RAID capability for secure and efficient disk utilization. All necessary software — data compression, disk management and Linux OS — is pre-installed. There's no additional hardware or software to add, integrate or maintain, and no painful software licensing or offsite storage fees.
Technical Specifications
Model:
XPS100
Total Disk
500 GB
Available Archive Storage
175 GB
Chassis
Desktop
Dimensions (inches)
15x10x8
Weight (lbs)
14 lbs
Network Interface Card
10/100
Memory
1 GB
Disk Swap
Hot
Power Supply
270 Watt
RAID Fault Tolerance
RAID 1
Whether you need an email archiving solution for 5 users or 5000, ArcMail has the answer.
Easy setup and administration.

Simply apply your standard network configuration and set the journaling function on your mail server
Data compression, disk management and Linux OS software pre-installed
Multiple security levels lets administrators control individual and enterprise access to archived data
Roll-off and Restore capabilities to manage data retention
Administrative dashboard allows administrators to monitor system settings and fine-tune overall system performance

Secure, automatic archiving protects business-critical data and ensures regulatory compliance.

Automatic capture and storage of all inbound, outbound and internal e-mail and attachments
Single instance storage for all internal mail
Restore function for disaster recovery
Individual emails can be viewed and restored but cannot be altered or deleted
Data integrity encryption for Backup and Restore to ensure that restored data has not been altered
Implementation of SSL certification process enhances security of archived email

Fast, easy search and restore.

Search on Sender, Recipients, Subject, Dates, Attachment name and file type
Full text search on both email and attachment text
Regular and wildcard search functions
View and open attachments, and restore emails to a separate mail box
Option to view header information

Friendly to users, popular with administrators.

Users launch the Web-based interface directly from Outlook or their web browser, at the desktop or remotely, for Search, Restore, and administrative functions
Import function lets you add past emails and Export allows for easy consolidation and distribution of restored emails
Schedulable full and incremental backup capabilities
Compatible with MS Exchange® and mail servers with SMTP journaling functionality, and with MS Active Directory®
Onboard storage for up to 80 million emails keeps old mail off the mail server, improves performance and reduces back-up time
ArcMail Supported Mail Servers:
AtMail Domino/Notes
Exchange 5.5, 2000, 2003, 2007
Exim
GroupWise w/ Discovery gateway
HMail Server
IronMail
Java Enterprise Server
Kerio * Mdaemon
Postfix
Sendmail
QMail
First Class
Mail Enable
Zimbra
Documentation:
Arcmail Products
Arcmail Defender XPS100 Appliances
Defender XPS100 Appliance
#CX0100
Our Price: $5,899.00
Arcmail Defender Maintenance
Defender XPS100 Maintenance, 1 Year
#HS10100
Our Price: $1,080.00
Defender XPS100 Maintenance, 3 Year
#HS30100
Our Price: $3,108.00
Defender XPS100 Maintenance, 5 Year
#HS50100
Our Price: $4,662.00
Arcmail Defender Instant Replacement
This addition is available with the purchase of a Five year Software contract. If you experience hardware issues and ArcMail determines this to be the case then ArcMail can Advance Replace with a complete same size unit.
Defender XPS100 Instant Replacement, 5 Year
#IR50100
Our Price: $2,611.00